30% of Brits boozing through crisis
A third drinking more and 1 in 10 drinking double
A SMALL but determined minority of Brits are binge-drinking their way through the lockdown, raising serious concerns about future health risks.
A survey of more than 16,000 people in the UK by digital poll findoutnow.co.uk finds that more than 1 in 10 (11.5%) are drinking "about twice as much" as usual or "more than twice as much".
Another 19% say they are drinking more than usual, perhaps a sign of the stress Covid-19 is causing. Only 15.5% say they have cut down.
You can see the survey results here
Find Out Now founder Chris Holbrook says:
"It is easy to see why people locked indoors and absorbing often frightening news have taken to drink. In the medium or longer term, this is likely to be a problem both for them and for the NHS."
A breakdown of the numbers shows that more men have cut down than women, but more men than women are drinking "more than twice as much".
Those 65 and over are most likely to be "very worried" about the long term health impacts of increased drinking during lockdown.
A further Find Out Now poll finds that over 4% of people admit to drinking more than 32 units of alcohol a week. 28% drink just between 1 and 3 units a week, they say.
When asked "Why are you drinking more during lockdown?", 42% cite "Boredom", 40% claim to be "just giving myself a 'pass'", and a worrying 28% say "Stress". When broken down by age, 18-24 drinkers are succumbing more to boredom and stress compared to older drinkers.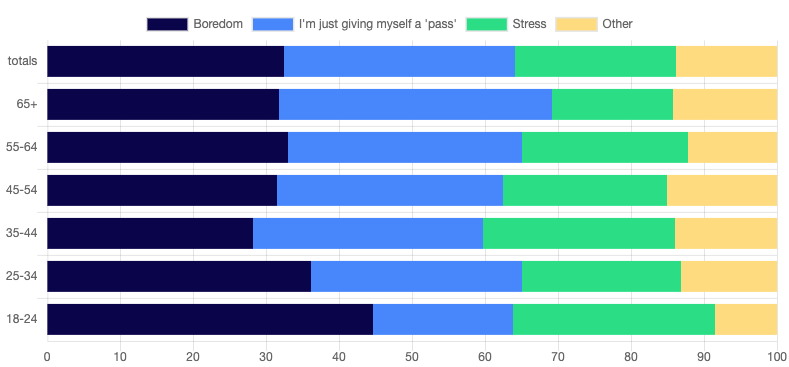 For further information, or to request a poll or survey contact Chris Holbrook on ask@findoutnow.co.uk or 07855 816675.
Notes for editors
Find Out Now gathers poll responses from Pickmypostcode.com, a daily panel from 2.4million members, and uses a proprietary machine learning system to select optimally representative samples from up to 100,000 daily responses.
More than 40 million responses have been received to Find Out Now's polls since it launched in November 2018.
Past poll results have featured on Sky News, in The Sunday Times, The Daily Mail and The Telegraph.